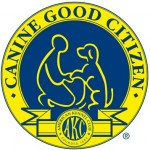 The Intermediate class prepares you and your dog to pass the AKC – Canine Good Citizen. This is a regular Intermediate class, teaching your dog every day skills.  We use the CGC criteria as a goal to reach desired behaviors in public.  It is our syllabus, but it is written by someone other than us.
The majority of the dogs that complete the Intermediate Class pass their CGC the first time.  We practice the behaviors you will be expected to complete during the CGC test until you and your dog are comfortable enough to take and pass the test.  If you would like your dog to be more comfortable in public and have a better trust level with you and others, this class will help you achieve that goal.  You do not have to take the AKC – CGC Test to take this class.

–
These behaviors include:
Sitting politely for petting and grooming (brush only)
Having a stranger pet, brush, and handle your dog's feet and ears
Taking your dog "Out For A Walk" (Loose leash walking exercise)
Doing a "sit" and "down" and staying in that position as you walk 20 feet away
Staying and then come from 20 feet
Walking through a crowd of people and one dog and not try to greet anyone
Having you and another person with a dog greet each other and have the dogs sit and not try to meet the person or the dog
Be desensitized to strange, loud, and unusual noises and props
"Supervised Separation": Allow a stranger to hold his/her leash and be calm when you leave for 3 minutes
Improve Your Training Skills
1) All dogs must be on a 3, 4, or 6 foot leash. No retractable leashes.
2) All dogs must be current on their shots & in good health.
3) Bring a chair so you can sit down comfortably during class discussion.
4) Bring a blanket, towel, or mat for your dog.
5) DO NOT feed your dog within 4 hours prior to class.
6) Bring your dog's favorite treats.
7) Bring a fanny pack or treat pouch to hold your treats.
8) No choke chains or pincher collars are allowed. Dogs must be on a nylon or leather collar. You can add an easy walk harness, head halter, or gentle leader if  necessary. 
9) Minimum age for handlers is 13 years old, and must be accompanied by parent or guardian.
10) Classes run for consecutive weeks, unless otherwise discussed in class.
11) You are welcome to bring guests to watch the class but in all fairness to the other students guests cannot disrupt the class.
12) If your dog has bitten a human or another animal, you cannot bring your dog to a group class. Please call for a private session 818.955.5364 (5DOG)
13) To reserve your spot in a class or workshop please use the Sign Up Calendar on this page. Class spots will be reserved in order of payment received. Should all of the spots fill up for a class we will call or email you.
14) Classes are not refundable unless requested 10 days before the start date of the class.
Call if you have any questions or concerns 818.955.5364 (5DOG)
We meet one hour each week for 6 weeks. Please see
Class Policies to prepare your dog for the class and what items to bring.
How Does It Work
Sign up in 3 Easy Steps
Choose Your Class From Training Menu
Choose Start Date
Fill Out The Form
Go To Class – Enjoy A New Well Behaved Happy Dog
Intermediate Obedience : Class Start Dates
Select Your Class Start Date Below
Looking for a date and time not listed Call Us:
(818) 955 – 5DOG (5364)
for custom scheduling options
Classes are 1 hr each week for 6 weeks only $189
      Upcoming Classes:                              Upcoming AKC Test Only Date:
Sun Aug 6th  – 9:00am (Park)                 September 17th 9:00-11:00 (for 2 hours)
Sun Oct 1st – 9:00am (Park)
Sun Nov 12th – 9:00am (Park)